Special Safe Deposit Box & Locker Promotion for NHS Staff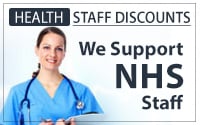 2 Months Free extra for NHS Staff.
Securus Safe Deposit Box & Lockers Centres have teamed up with Health Staff Discounts to generously give 2 months extra rental free to NHS Staff.
Please bring proof of working for the NHS to qualify for the promotion.
Securus Safe Deposit Box Centres provides a safety deposit box & locker facility for your irreplaceable family heirlooms, collections, investments, valuables and important documentation at affordable prices. We are renowned in specialising in Safety Deposit Box services, with impeccable attention to detail, security and customer service. With safe deposit boxes starting from only £69 per year protect your past, present and future with Securus, 'Custodians of safekeeping'.
See our sizing and pricing for more information call our friendly staff on 02089082200 or https://www.securusdepositcentres.co.uk/
Other News
https://www.securusdepositcentres.co.uk/safe-deposit-news/
The last day to use your paper £10 notes is 1st March 2018.
Please share, follow and like us: